Bugz Life: Multiphase Invertebrate Shop and Zoo Website Project
23 June 2022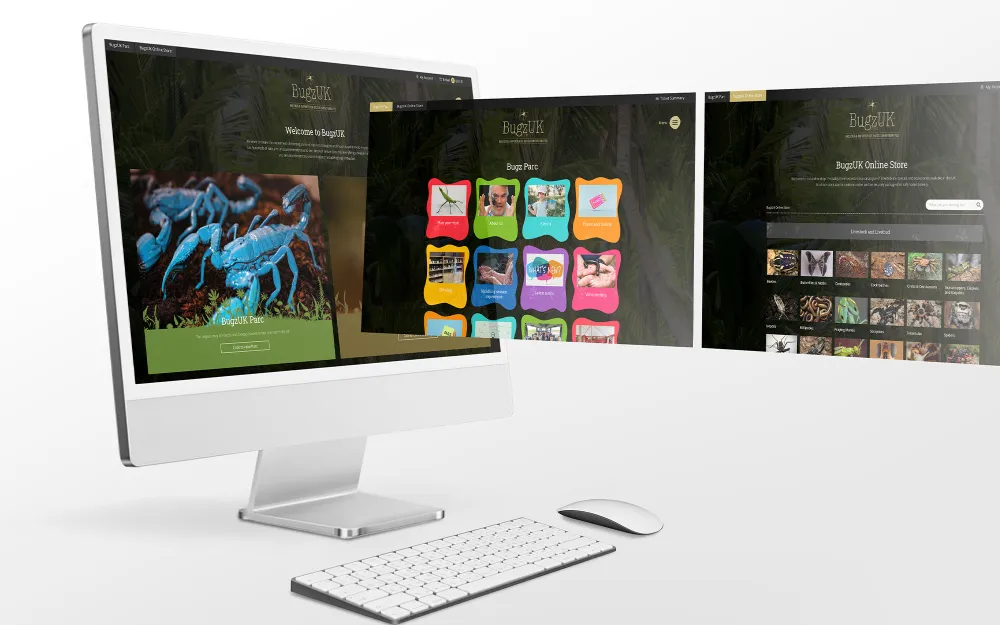 Martin French is a long term client who turned his passion for insects and minibeasts into a successful online business supplying fellow entomological hobbyists. His BugzUK brand has built up over the years to become one of the best known suppliers of bugs and all the paraphernalia required for breeding them and keeping them as pets.
With the shop side of the business well established, Martin was able to pursue his dream of opening an invertebrate zoo. In 2020, he bought five acres of land to begin converting into suitable habitats for his creatures, and the BugzUK Parc welcomed its first guests in May of this year.
The BugzUK website needed to be expanded and modernised to make the shop a more user-friendly experience and to include information about and ticket sales for the Parc.
As BugzUK is on a website update package with RWD, the cost of a full website revamp was able to be spread over many months. We started over a year ago with a full update of the back end systems and code to accommodate the new features. The shop was updated with a search bar and account functionality to help returning customers (order history, address book, etc).
The bigger part of the project was adding an additional 18 pages for the Parc side of the website to the existing bugzuk.com site. We worked closely with Martin to exactly meet his requests and requirements.
We built an online booking system for the Parc with a user-friendly booking form interface divided into 3 simple steps:
Would you like to buy any season tickets?
Are you booking a Parc visit?
Would you like to book a handling session?
Visitors can use this simple form to book their entire visit in one place either in advance or on the day of their visit.
The booking system counts the number of people booked on any given day and automatically blocks out days where maximum capacity has been reached. A similar system counts attendees at the handling sessions and only shows availability for those with free space. Other automated features make the booking process a smooth operation with only relevant options shown.
The payment system was hooked up to Stripe to allow for easier checkout and the ability to pay by Apple/Google Pay.
We updated the back-end Customer Management System to allow Martin to manage the ticket prices manually and these changes to be immediately reflected on the website. The CMS tool also allows staff to:
View the bookings made via the website
View the number of bookings and visitors to the Parc on any given day
View the number of handling sessions booked in on any given day, and for each time slot
View people who have purchased Season Tickets online
Manually add a booking in, should one need to be taken over the phone or in person at the Parc.
No small project! We've been working on this for many months with regular periods of intense activity to make sure we met the deadlines for various phases of the project. Martin kindly left us this review on Google:
"We used RWD to create our website, split over many months as we were opening sections of our business at different times. They have always been extremely approachable, easy to contact and have provided me with a website matching the design criteria I gave them. No problem has been too much for them and attention to detail has been great. Having RWD at hand to change the site at a moment's notice where required is also a godsend. Cannot recommend RWD enough for anyone needing to build their website in the future."
If your website and online offerings could use an overhaul, check out our Digital Marketing Bundle - all website services including your website design and development from just £595 per month!