Partnership with Kanndoo to Develop an App Supporting Homeless People
25 October 2022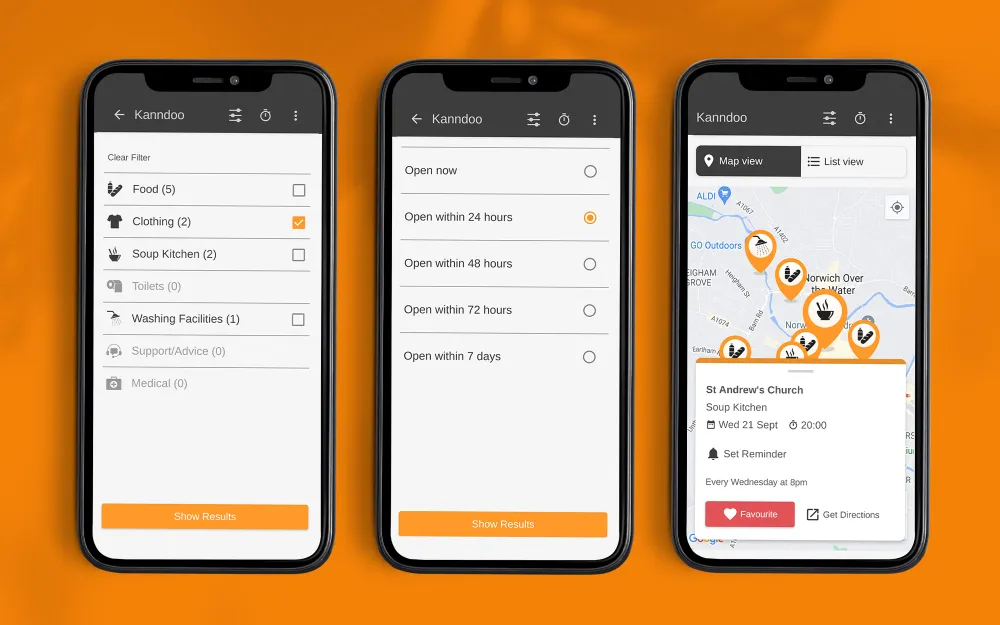 Kanndoo is a non-profit Community Interest Company that was set up to help the homeless. The founder of the company, Trevor Smith, had a lot of ideas, a self-funded budget and the bold ambition of tackling homelessness. He came to RWD in our capacity as website designers and asked us to build him a website to showcase a suite of apps he was working on.
We built the original website, and Kanndoo signed up to our Digital Marketing Pack which provides a team of professionals to work on aspects of online design, copywriting and marketing for an organisation's products and services. But what exactly were Kanndoo's products and services? Trevor had lots of ideas and sometimes it seemed like half the job was reining in his imagination and keeping him focussed on the main task.
At Kanndoo's request, we wrote lots of articles about local, national and international homelessness for the website blog. We built a shop where people could buy gifts for the homeless, but the central idea of marketing technological solutions that help homeless people was not getting off the ground. The apps were still in Beta-testing mode and it would be counter-productive to market these until they were ready.
Partners with Kanndoo
Earlier this year we put together a proposal to partner with Kanndoo. We suggested shelving most of the elements of what had become quite a sprawling project and refocusing on a single free app to help the homeless which RWD would develop. Trevor agreed and we became business partners.
Our copywriter - well versed in the issues of the topic after years of writing articles for the Kanndoo blog - wrote a manifesto for the project: emphasising that, if the project were to have legitimacy, we should always take our lead from the poorest in society, asking them what they needed and providing a simple technological answer.
The new Kanndoo app would provide location based information about where homeless people or people living in poverty could find assistance in the form of food banks, soup kitchens, toilets, washing facilities, shelter and advice. We built a fully working app and populated a database for Norwich and Great Yarmouth (our two local centres of poverty) as a proof of concept.
We also rebuilt the website to focus on the new app and hired a student videographer to work with us one day a week. Alex makes and edits videos for the Kanndoo YouTube channel. We're all learning together, but we're delighted with his early videos of our interviews with a former homeless person and instructional videos promoting the app. And looking forward to seeing what else he will produce.
Launching the App
Last week, we launched the app on Google Play Store. The app is available throughout the UK, but only works in Norwich or Great Yarmouth for the time being as these are the places where we have populated the database. If you are in either of those places, please download the free app and let us know what you think!
We are currently reaching out to local charities and support organisations to see how they can use the tool we have developed. And for the next phase, we'll be seeking investment to fund the labour intensive process of populating the database for the rest of the country.
We're pretty pleased with the app, and we really believe that it could be a factor in improving the lives of some of the poorest people in society.
If your organisation could benefit from a crack team of digital experts redesigning your website and providing high quality content for updates and social media, check out our Digital Marketing Bundle - prices start from just £595 per month!