Brochure Website for Pub Leisure and Games Products Supplier
28 April 2022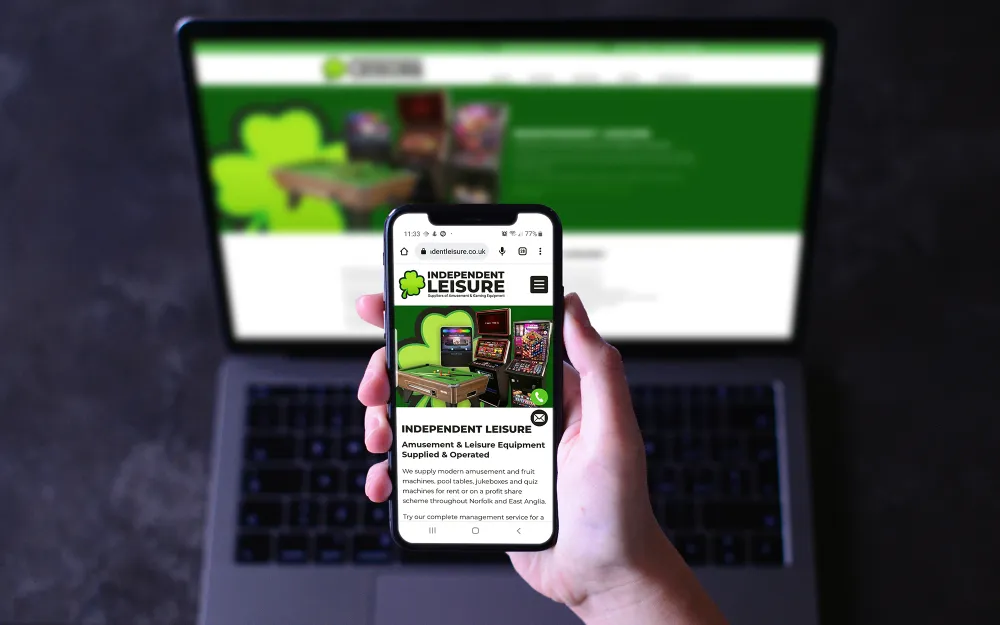 Independent Leisure is a Norfolk based company that supplies games machines and leisure activity equipment to the hospitality industry. Their existing website was looking a little dated and they came to us for a refresh.
Sometimes it's good to go back to basics and demonstrate the value of a great looking website that showcases a company's products and services with content that is search engine optimised.
Front Page of Google
Independent Leisure wanted to appear on the front page of Google for location based searches for their products and services - terms like 'Pool table hire Norfolk' and 'Fruit machine rental Great Yarmouth'. We rewrote the content of their website to make sure it included keyphrases that would improve the website's ranking on Google.
Modern Look
Using a mixture of product images from the supplier and thematically appropriate stock imagery, our designer was able to spruce up the look of the website, giving it a more modern feel. She produced designs for desktop and mobile versions of the website.
Smooth Page Loading
Our development team used our own framework which ensures smooth and swift loading of images and pages. Because all of our websites are built bespoke to exactly the requirements of the client, they are not clogged up with third party software and plug-ins that can delay page loading.
Friendly Captcha
This was one of the first websites where we used Friendly Captcha on the contact form. Like other forms of Captcha, this distinguishes between genuine human activity and bot activity, but is fully GDPR compliant (unlike other big name Captchas - looking at you Google) and doesn't require you to identify scrawled blurry words or click on fire hydrants or other annoying tasks.
Our support doesn't end when we've built the website. Our hosting service includes a couple of hours updates per year (this could be used annually to update prices and images). Alternatively, we can put together a tailor made support package for customers that require more frequent updates or advanced services such as blogging, social media support and Google advertising.
The new Independent Leisure website was a fun project that we were able to complete quickly and to the client's satisfaction. They left us a great review on Google:
"First class service, A team with great ideas, execution and technical support. A real one stop shop for design and hosting."
If you are looking for a new or updated website for your business, get in touch. You can call us on 01603 632552 or email us at info@rwd.group