Multiple Websites for Food Distributor Smithfield Foods UK
14 November 2023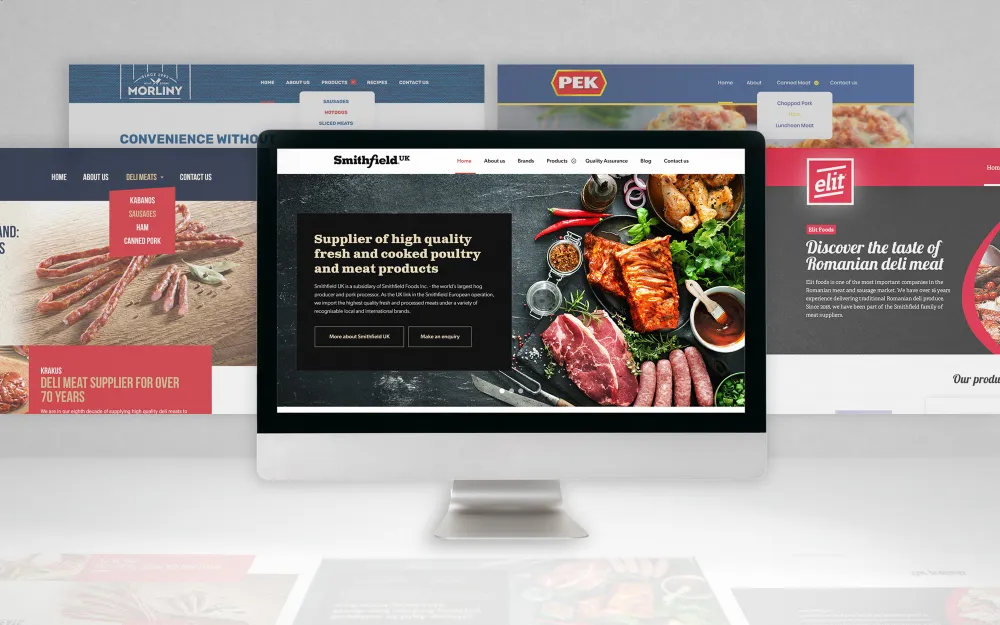 Smithfield Foods Ltd is the UK & Ireland division of Smithfield Europe, an operating arm of WH Group, the world's largest pork processor. Headquartered in Norwich, the UK branch supplies pork and poultry products from European sister businesses to retail, foodservice and wholesale customers under a variety of recognisable local and international brands.
So when they approached us about a new project - they were actually after multiple websites - the full brief turned out to be for a suite of five websites! A core site for the Smithfield Foods brand and four additional brochure websites showcasing the products available from some of their leading sub-brands.
Smithfield Foods
This website needed to be friendly and informative, providing all the information about Smithfield's ranges of products and giving particular attention to the company's quality assurance guarantee. The Smithfield Foods website set the template in style for the other four websites.
PEK
A lot of the canned meat products that Smithfield imports and sells to retailers is under the familiar PEK brand - synonymous with high quality canned pork. Smithfield Foods supplied us with dozens of recipes to feature on the PEK website and inspire people to get creative in the kitchen.
Krakus
Smoked and dried deli meats from Poland - including the famous Kabanos dried sausage - are produced by Krakus and distributed by Smithfield. Krakus has a 70 year history of producing high quality deli meats and now has a website that highlights the prestige of the brand and the quality of the products.
Elit and Morliny
Elit joined the Smithfield family of meat suppliers in 2018 and is helping to fill the demand for Romanian deli meats on supermarket shelves. Morliny is a popular Polish brand of packaged meats. In both cases, Smithfield provided us with high quality images of the packaged products and serving suggestions to feature across the websites.
All of the Smithfield sub-brand websites feature links to the supermarket product pages where the items described on the webpage can be purchased.
Teodora Chivu, Category Marketing Executive at Smithfield Foods UK, kindly left us this review on Google:
"RWD has worked to refresh our 5 websites and the results have surpassed our expectations. The team excelled at understanding our needs and the brands' essence with minimal briefing, creating a perfect balance between aesthetics and functionality. Seamless communication, coupled with a collaborative spirit, made the entire process a partnership rather than a transaction, I would definitely recommend them!"
Martin Emerson who managed this large project for RWD, said:
"This project required great teamwork and regular communication with the client to ensure we got all the details of these imported meat products in their correct context. We're delighted with the outcome: a suite of modern fast-loading mobile-friendly websites, clearly connected, but each with their own branding and personality."
Whether you need a single website for your business or multiple websites for your suite of projects, RWD has a friendly contactable team based in a UK office who can fulfil your needs on time and to budget. To arrange an initial meeting to discuss your requirements, please call 01603 632552