How We Created a Stunning Website for PR Bathrooms
19 April 2023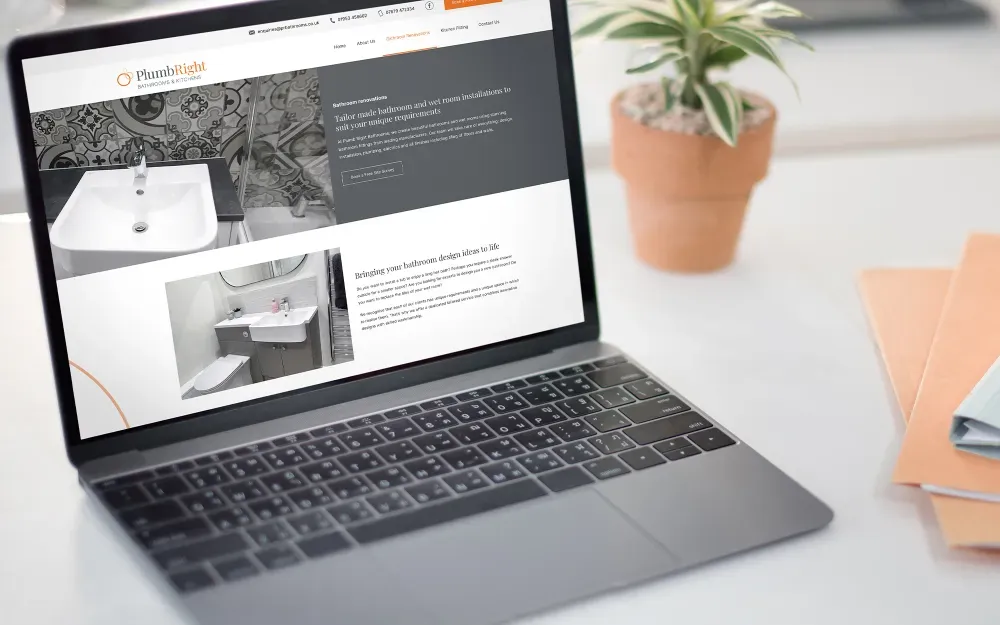 We offer a host of digital services at RWD, but they all link back to our core service which is the writing, design and development of stunning websites - all built bespoke to the client's exact requirements and with a unique aesthetic designed to make them stand out from the websites of your competitors. PlumbRight Bathrooms and Kitchens responded to our recent marketing drive and contracted us to build a website and organise some digital marketing.
Initial research
Our design process started with thorough research into the keyphrases that PlumbRight's potential customer base are typing into Google when they are looking for the kinds of services that company is offering - in this instance, kitchen and bathroom installation. The website is structured and the text written based on this foundational research.
Design process
Once the text is written by us and signed off by the client, our designer gets to work on the look of the website. PlumbRight helpfully supplied us with stunning images of their completed installations that we could incorporate throughout in a sleek and modern design that reflected the ethos of the brand.
Website features
Two features that the client was keen to include were portfolio galleries and testimonials from satisfied customers. So potential new clients could get inspired by previous work and be reassured that they were employing a trusted trader. Our bespoke website building process makes it easy for us to incorporate these elements prominently alongside the standard information about services, calls to action and contact details.
Digital marketing
We also set up (and continue to monitor on the company's behalf) a Google Ads campaign to bring additional paid traffic to the website from people who are searching on Google for terms relevant to PlumbRight's services. This too links back to our foundational keyword research.
Michael Johnson of PlumbRight Bathrooms kindly left us this review on Google:
"I contacted these guys to design a website for me and restructure all my media and manage my domains, emails and search engine targeting and google pay per click campaigns. Adam , Martin and the rest of the guys carried this out painlessly and with such professionalism after a transition from Yell. Offering me a monthly package to manage my account ,which I thought was extremely good value compared to what I had been paying and also offering an excellent personal service. The only negative is they never have any milk for coffee if you visit their office . Apart from that Five stars!"
It's true, we very rarely have milk in the fridge, but we do design amazing websites. If you have an inkling that your provider is not giving you value for money, get in touch. You can call us on 01603 632552 or email info@rwd.group