Feeling the Groove: Design Elements for Carl's Drum Lessons
08 August 2023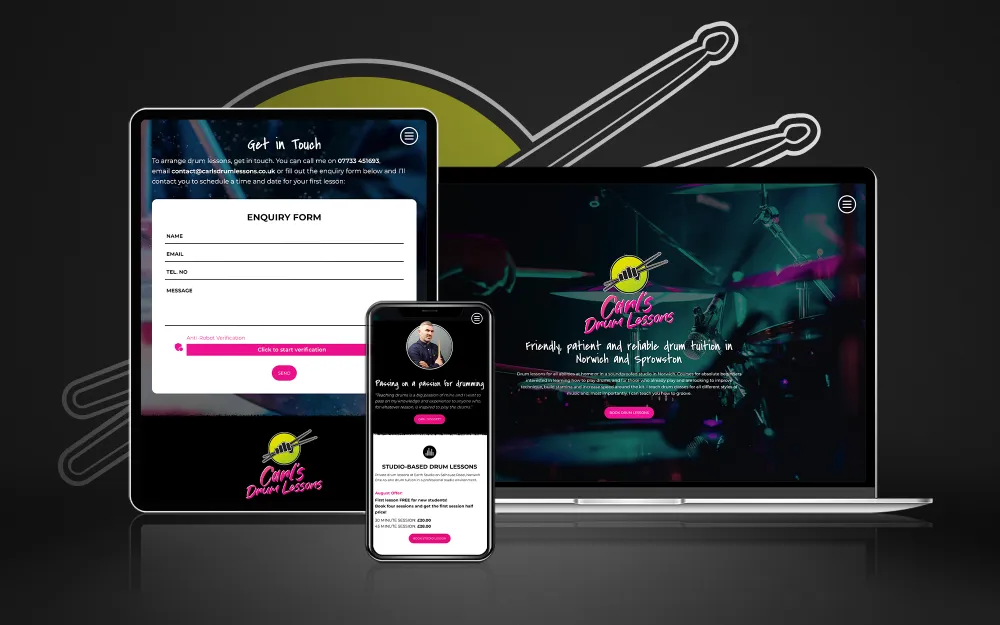 Carl is a professional drummer and teacher based in Norwich who offers in-person drum lessons for all ages and levels. After approaching us, he now has a great-looking website that showcases his skills, personality and passion for drumming.
We thought we would share with you some of the design processes that went into it.
Logo and Colour Palette
One of the first things that catches your eye when you visit Carl's website is the vibrant colour palette. We wanted to create a website that reflects Carl's energetic and upbeat style of teaching, as well as his love for all genres of music.
We started with the logo which we were able to design from the client's notes and sketches. He was after an Eighties look. His references were the fist logo from the Cobra Kai TV series and his notes mentioned the neon aesthetic from the movie Drive and the cover of the Christopher Pike novel The Midnight Club. Lots of influences for our designer to draw on as she professionalised these ideas into a tight logo of the bunched fingers of a hand clutching two drumsticks.
RWD Creative Director, Greta White, said:
"We then tried to reproduce this same concept on the website style. Dark website with high impact images and vibrant neon inspired colour highlights. Big interactive elements such as the accordion reviews slider and aspirational images to connect with a younger audience (or young at heart at least!)"
We think that this colour palette makes the website stand out from more corporate or formal websites, and gives it a friendly and inviting feel.
Mastering the Tone
An aspect of website development that our copywriter works hard on is achieving the right tone of voice. We wrote the website copy from Carl's perspective - using the first person singular voice as if Carl was directly addressing his target audience, which is mainly people who are interested in learning drums for fun.
We chose a casual and conversational tone throughout the website with the intention of coming across as personal, relatable and authentic, and showing that Carl is a skilled teacher and experienced musician, but also a fun, friendly person.
Personal Elements
One of the things that Carl was keen on was that the website should highlight his personal story and journey as a drummer. He wanted to show his potential students that he has a lot of experience and expertise in drumming, but also that he understands their challenges and goals. That's why we included a section called "About Carl", where he shares his background, achievements, influences and philosophy as a drummer and teacher. We also added some testimonials from his current and former students, who share their positive experiences and results with Carl.
Updates Package
Carl is signed up to our updates package. So, if he wants to run a special offer or update the testimonials when he gets a good review, he can just get in touch and we'll make the desired changes to the website.
Carl said this about the experience on his Facebook page:
"Thanks to RWD who built my website Carl's Drum Lessons. They have just reviewed it on there own website! Give it a look if your interested, well worth checking these guys out if your looking to have a website built, so happy with the result and lots of enquiries starting to come through for lessons."
Working on Carl's website was a fun project for everyone at RWD. We enjoyed collaborating with Carl and bringing his vision to life. We are happy with the final result, and we hope that it continues to bring him lots of enquiries from aspiring drummers.
If you are interested in learning drums with Carl, you can visit his website and book your first lesson today.
If you are interested in getting a website for your business or project, you are already in the right place. We would love to hear from you and help you create a website that suits your needs and goals. Call the office on 01603 632552 to get started.